SiriusXM Platinum VIP Frequently Asked Questions
SiriusXM Platinum VIP
I would like to add another radio to my plan? How can I do that?
Please call a Platinum VIP Customer Care representative at 1-866-607-4225 and they can guide you through it.
I need help getting my streaming logins set up. Where can I find them?
I would like a channel guide. Where can I get one?
You can submit preferences and create a channel guide here.
I need help streaming.
Check out our guide here.
Where can I download the SXM App?
Where else can I listen to SiriusXM besides on my phone?
Do I have to have 2 activated car radios in order to have access to 2 streaming logins?
Yes. You receive one login per activated vehicle radio on your Platinum VIP Plan.
---
Nugs.net
What's included in the nugs.net access with my Platinum VIP subscription?
Your Platinum VIP subscription gives you access to streaming audio of soundboard masters from over 5,000 live shows, with new shows added every few months and, the ability to create custom Playlists and/or save Playlists for offline streaming on your mobile device within the nugs.net app. You also get access to 250+ exclusive archived videos. Please make sure you have the latest version of the nugs.net app.
What are the computer requirements for streaming through nugs.net?
On Mac or PC, you can access the desktop player using their browser (we recommend Chrome or Firefox). Please ensure that your Mac or PC are running the latest Windows or MacOS updates.
What devices are supported? (i.e., Sonos, Roku, Android TV, etc.)
You can access the nugs.net streaming catalog on Mac or PC, iOS or Android. You can also cast audio or video to Chromecast devices or Airplay to Apple smart devices.
Can a Platinum VIP customer share content from nugs.net?
Yes, you can create Playlists of any songs/shows/albums in the nugs.net streaming catalog. From your mobile device using the nugs.net app you can share your playlists with any other nugs.net subscriber.
How do I access my nugs.net benefit?
You can log into nugs.net using your SiriusXM Platinum VIP login credentials.
Does nugs.net have a customer support telephone number I can contact to discuss functionality or other general questions regarding nugs.net?
You can reach nugs.net by phone between 9-5 ET Monday to Friday at 888.747.NUGS. They also provide customer support 365 days a year on help.nugs.net, or you can email them at help@nugs.net
NUGS FAQs: https://help.nugs.net/support/home
---
Apple Music
https://www.apple.com/apple-music/
How do I get my 12 months of free Apple Music as part of my Platinum VIP Plan subscription?
You will receive an email with redemption instructions to activate directly with Apple following your purchase of the Platinum VIP Plan. After the free 12-month period your service will automatically renew to a paid subscription to Apple Music at $9.99/month billed by Apple, unless and until cancelled directly with Apple. Requires Apple ID with a payment method on file. Compatible products and services required.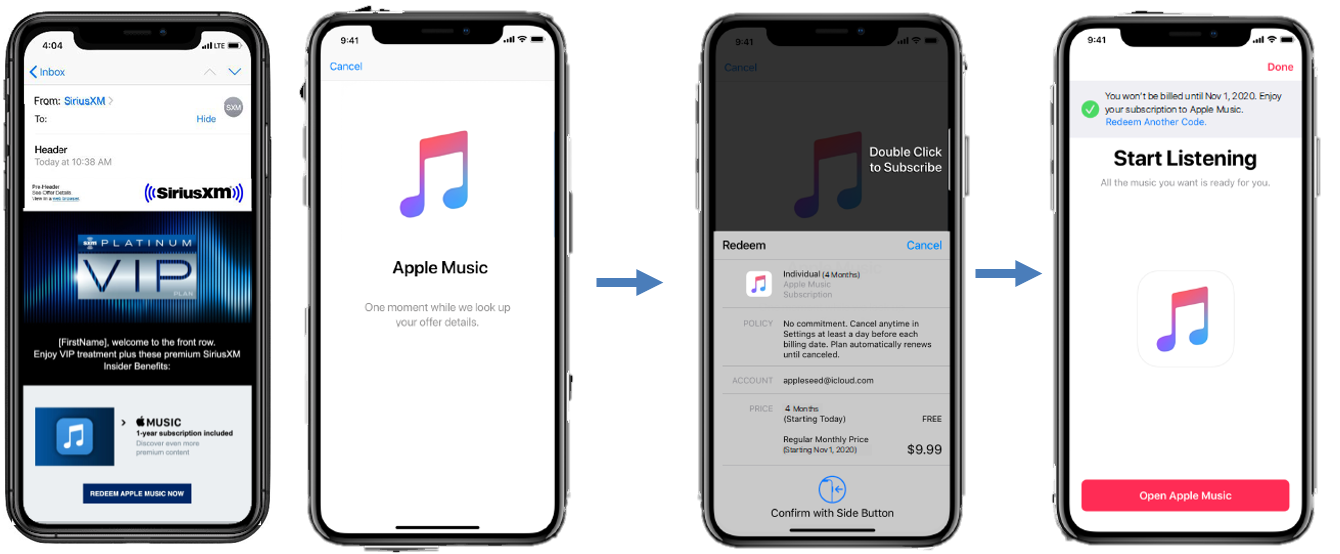 I activated two (2) vehicles on my Platinum VIP Plan, do I get two (2) Apple Music 12-month trials?
No.

Only one (1) Apple Music trial is provided regardless of the number of activated vehicles on the plan.
I'm having trouble with my Apple Music service. How can I get help?
Contact Apple Support.
Go to https://getsupport.apple.com.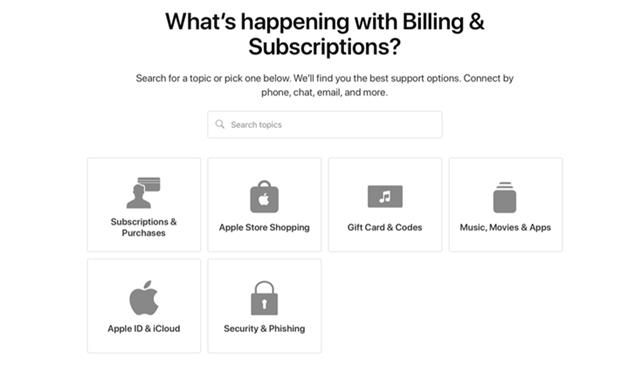 How do I cancel my Apple Music subscription?
What is Apple Music?
Apple Music is a streaming music service that lets you play over 90 million songs and 30,000 playlists ad-free, online or off. Subscribers can also access spatial audio to hear sound all around, time-synced lyrics, and exclusive shows hosted by artists across three global livestreams playing today's latest hits, classics, and country.
How is Apple Music different from SiriusXM?
SiriusXM is a live streaming and satellite radio service bringing you the widest variety in music, live sports, world-class news and nonstop laughs. Listen in your car, on your phone, or at home on connected devices.
Apple Music is a subscription music streaming service that lets you listen to millions of songs, thousands of playlists curated by the world's best music experts, exclusive global livestreams hosted by artists, music videos and more across all of your devices.
How can I listen to Apple Music?
Apple Music is already on your iPhone, iPad, Apple Watch, Apple TV, Mac, and HomePod mini — and you can listen with CarPlay or online at music.apple.com. Apple Music is also available on Windows and Android devices, Sonos speakers, Amazon Echo, Google Nest, Samsung and LG Smart TVs, and Sony PlayStation5.
Apple Support
---
Stitcher Premium
How do I access my Stitcher Premium benefit?
You can use your SiriusXM streaming login credentials to access the Stitcher Premium ad-free podcasts. You receive a SiriusXM streaming login for each vehicle activated on your Platinum VIP Plan and can access Stitcher Premium with each login.
I already have a Stitcher Premium subscription. Can I link that to my new Platinum VIP Stitcher Premium benefit login?
No, at this time it is not possible to link your existing Stitcher account to the Stitcher Premium subscription you will get with Platinum VIP. This means that if you want to maintain your existing listening history, podcast preferences, etc., you may want to keep your existing Stitcher subscription.
Will this cancel my current Stitcher Premium subscription?
No, you will still have your purchased Stitcher Premium subscription which will continue to automatically renew unless you cancel it directly with Stitcher or through your App Subscription provider (Apple App Store, Google Play, etc.). There are no refunds for any pre-paid Stitcher Premium subscriptions.
What happens if I cancel/deactivate one or more vehicles on my Platinum VIP Plan – will I still be able to access my Stitcher Premium subscription tied to that radio?
No. If you cancel one or both of the radios on Platinum VIP, the Stitcher Premium access associated with the cancelled radio will be terminated and all listening history, podcast preferences, and bookmarks will no longer be accessible.
What happens if I transfer one or both of my radios to a different type of SiriusXM subscription – will I still be able to access my Platinum VIP Stitcher Premium benefit for that login credential?
No. If your Platinum VIP subscription transitions to a different SiriusXM subscription plan, your Stitcher Premium access will transition to Stitcher Free (ad-supported) access. Your listening history, podcast preferences will remain but you will lose access to the Stitcher Premium (ad-free) service.
One of the radios I have on Platinum VIP is on a trial – do I still qualify for Stitcher Premium?
As long as that radio has been activated on a Platinum VIP Plan, you will be able to enjoy your Stitcher Premium access, even if your radio is currently on a trial.
What is Stitcher?
Stitcher is a media company that specializes in the creation, distribution, and monetization of podcasts. Stitcher is home to one of the largest podcast listening apps, giving listeners access to hundreds of thousands of podcasts.
Was this article helpful?